About me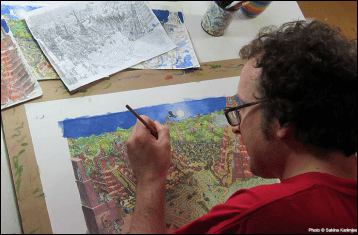 I am a freelance illustrator with extremely wide ranging experience. I have worked on numerous projects such as illustrating children's fiction books to educational publications.
My art work is used for both fiction and non-fiction and is for children and adults. I have also illustrated for newspaper articles, booklets, comics and websites.
I have just finished my first graphic novel - Toussaint Louverture: The Story of the Only Successful Slave revolt in History to be published by Verso in October 2023
My images range from simple vibrant cartoons to highly detailed illustrations based on extensive research. I draw from both fantasy and reality.
Please watch the video below to see how I develop an image from rough sketch to final render.
My ethos
I believe that it is the job of illustration to help bring a text alive, to help a reader visually engage and importantly to help communicate the message of the text.
I enjoy collaborating with writers, publishers and project coordinators to make this happen. Sometimes I work to a very clear and precise brief and produce pictures as required, other times I take a strong creative lead in the development of a project and the direction and visual style it takes. I enjoy the variety and creative stimulation each new project brings.
I love developing strong characters and inventing the quirky details that give them a sense of reality.
I relish combining accurate and researched detail, either from historical times or familiar places with imaginative fantastical scenarios or elements to create anarchic and fun illustrations.
My clients have included...
The Guardian, Verso Books, Little Tiger Press, NSPCC, War On Want, The Royal Borough of Kensington and Chelsea, Little Robot Shop, FPA (The Family Planning Association), Routledge, The Parkinson's Disease Society, Fulham Football Club, Michael Rosen, City of Westminster, Image in Action, Featherstone Education, Rising Stars, Surrey County Council, Hornbeam Publishing, Firecrest Publishing, Smith+Bell, Islamic Bestsellers, David Fulton Publishers, Sage Publications, Paul Chapman Publishing, Department of Health, Department for Education and Lichfield Literature Festival.